By Jeremy Ho
Introduction
From both a Practitioner and Peer perspective, Solution Focused Brief Therapy has allowed me to decipher the way forward. What is SFBT? SFBT is most often a counselling therapy modality. It emphasizes a client's present & future circumstances and goals compared to the client's past. The word "brief" in it naturally describes that it wouldn't focus too much on symptoms, root issues, and deep events.
Here's some history behind the esteemed modality:
SFBT was founded by Steve de Shazer & Insoo Kim Berg (Brief Family Therapy Center in Milwaukee) and was developed in the 1980s. The objective of SFBT strives to empower clients to develop realistic solutions as soon as possible rather than spending too much time within therapy. Famous questions asked within an SFBT context that gets clients cracking their brains would be the Miracle and Exception questions. Techniques like Scaling the client's WANTS & INSTEADS are also very popular.
3 points on why I would advocate SFBT
1. Quick Results
Through exposure within the therapy scene, we as Practitioners or Coaches have a fair share of journeying with clients who may prefer and adopt a solution-focused mentality. Where time is not in our favor, we want the most suitable way forward as immediately as possible. SFBT is proven to have a structure and framework to decipher not only the most appropriate solutions but to instill independence for clients to improve themselves even after therapy or coaching.
SFBT intends to focus more on action than thoughts. Through this emphasis, positive clinical outcomes often require less time and fewer sessions. It is very systematic yet fluid in a structure that applies to anyone at any point in time. After all, there is strong evidence that SFBT is a far more effective treatment method for psychological and behavioral outcomes. Also, being far cheaper.
2. Easy for Practitioners to pick up
For the coaches and therapists that enjoy emphasizing SMART Goals and being solution-oriented, consider advocating SFBT. It is simple enough to integrate and execute compared to other modalities that may require longer periods or diverse certifications to enact professionally.
Take, for example, SFBT vs Psychoanalysis, although Freudian Theories are amazingly evidence-based effective especially for our hypothesizing processes, one must acknowledge that it takes quite a long time to administer and to be professionally trained with the particular set of skills required to be a psychoanalyst.
If SFBT is integrated wisely, it would be supplementarily very useful. Coaches benefit from this modality. SFBT must be employed for every client's best interest as it can lead to greater independence. For example, clients administer and reflect themselves via Exception Questioning. "What must happen for me not to experience this issue again?". "When was the last time I experienced no anxiety?" …
3. Anonymous Mental Wellness App Intervention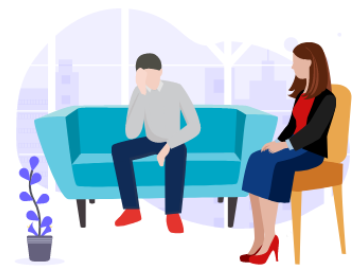 To justify SFBT's contribution to the Mental Wellness scene, The SomethingNew App which I co-founded integrates a lot of facets from the intervention into every (up to 25min) anonymous text chat. There was a total of over 2000 successful text chats from Feb 2021 to December 2021. The most common topics conversed were mainly Anxiety, Depression, Relationship Problems, and Stress. This would not have been possible without the help of AW's therapists who are ad-hoc volunteers on the App too. Also, NCSS Belle The Bot recognizes and approves SomethingNew as an appropriate source to receive complimentary anonymous text counselling.
Check out the App to receive free therapy in the form of text counselling:
*Google Play Store (Android Users):*
https://play.google.com/store/apps/details?id=com.apps.somethingnew
OR SEARCH: "SomethingNew"
*Apple AppStore (iPhone Users):*
https://apps.apple.com/sg/app/something-new/id1550568356
OR SEARCH: "Something-New"
Conclusion
SFBT is not the solve-it-all modality nor is any other modality out there. Through wise integration and for our client's best interest, SFBT would complement almost any approach a Practitioner chooses to enact for therapy or coaching. SFBT has given me more confidence to be more natural during conversations, interviewing processes, and critical thinking moments.
Should you be curious to learn more about Counselling, Therapy, and the different types of modalities, feel free to join us at Aventis Graduate School where there are multiple Masters or Post-grad Dip programs lined up for you. Should you desire to explore more about receiving therapy for yourself or your employees at your workplace, do check out our EAP section & the footer section on our Aventis Wellness website. Thank you for reading.
References
https://www.goodtherapy.org/learn-about-therapy/types/solution-focused-therapy
https://thriveglobal.com/stories/3-benefits-of-solution-focused-brief-therapy/
https://www.ncbi.nlm.nih.gov/books/NBK138422/